Hungary, My First Europe Trip!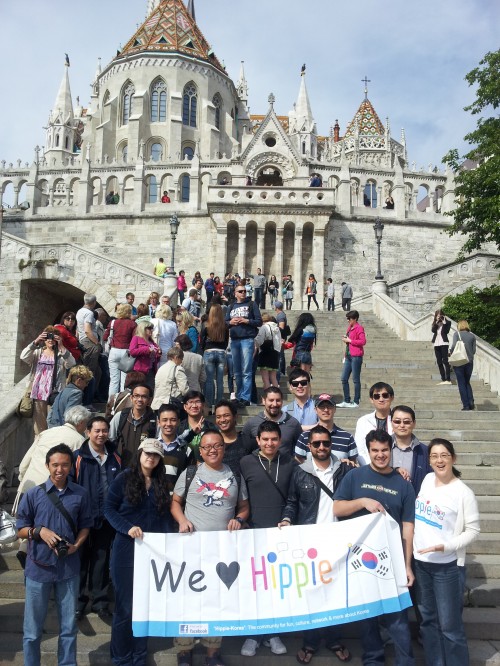 Several weeks after my trip to US, i got another exciting business trip plan, to Hungary, Europe with one of my team! Yay! And without further ado, we're preparing our visa with full of excitement. But as soon as we submit our visa application, we realize that getting the Hungary visa is actually harder than the US visa. So many documents needed and it takes 3 weeks for the Visa process! Because of this, our departure is delayed by several days from the actual schedule.
After we got the visa, we immediately book the flight to Hungary which the departure time is surprisingly at 12.30 AM! Our flight to Hungary takes 1 transit, which is placed in the Qatar (since we use Qatar Airways). The Qatar airport is, well, uncomfortable. It's really hard to find empty chair in the waiting room. I heard this because they are still renovating the airport. We arrived at 2 AM on local time, and we have to wait for around 3 hours in this airport.
The flight from Qatar to Hungary is tiring. But all the fatigue is suddenly disappear when we arrived in the Budapest! I've been to some foreign countries, but the atmosphere in the Budapest is really different and i never felt it in any other place. The medieval building are everywhere and really-really beautiful. Before we call the taxi, we exchange our money with Hungary currency, the name is quite funny, Forint. *which at first i heard it as Florin*
Our hotel is in the center of Budapest. It provide us with free lounge full of snacks and drinks which we can access anytime. Our working place is placed on another city which is take 2 hours by bus. Since we arrived at noon and still have some time before we have to enter the office the next day, we take a look around for a nice lunch and taking some walk. And my friend first reaction was, "This city is so beautiful, i don't want to come back!"
On the weekend, we actually planned to go to Paris, France, since our Schengen visa allow us to go any Europe country 😀 But our host is inviting us into a trip in the Budapest. Ugh.. Kinda disappointed because i really want to see the Eiffel Tower. But it feels fun anyway, we visit many beautiful place in Hungary which is very unlikely we can found by ourself.
Finally.. after 10 days in this beautiful city, we have to go home. And, the story is not ended yet, because when we're quietly waiting for our plane in our designated gate, some officer came and said that our plane is already on final call. It appears they moved the gate -_- Gosh.. Can't imagine if we miss our flight.. Fiuh.. ~_~
And this is the end of this post. But the story is not ended here. When i thought it's already over, there's another trip waiting for me which the story will be put on the next post 😉
Alief – 26 May 2013