I Hate You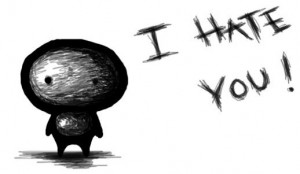 Geez.. It's been a while since i hate a person like this.. But, it can't be helped. When i start to hate someone, i always try to calm down, ask others and thinks maybe it's just me. But i guess this time that's not the case.
The seeds is already there since then, but it appears it's growing rapidly into a tree of hate. Yeah, i know.. Hating someone is not a right things. And i always try my best to remove and forget it. But there's always thing that make those hate back and grows deeper. When just looking a somebody face make you feel sick and your face going hot literally , i guess your level of hate is really high.
I don't know, but hating each others only bring destruction. And moreover, Allah doesn't like it. So, let me put it this way instead, i won't do anything harm to you, but you're also not exist on my life. Hope this will enough to prevent me to thing lot of idea to wipe you out.
God, give me strenght..